CCB

Main|News|Links|Crew|Interviews|Articles
Crew:
PhilthyBmx@hotmail.com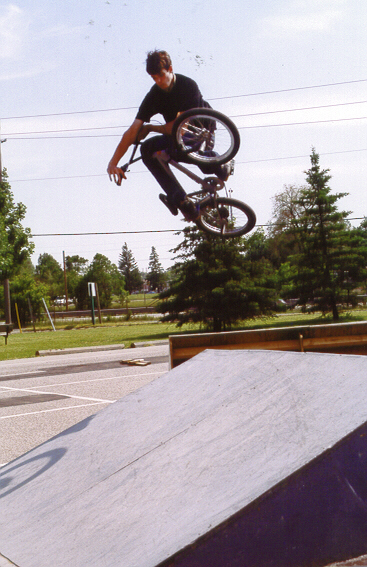 Dan Kuehnel
If there is one person in the bmx world that has the worst luck it would have to be Dan. He is the only one I know that can get 7 flats in one night, make a 48 spoke wheel in to a 36 spoke wheel just by riding it till it wouldn't roll. Weather it be his seat breaking or the seat post bending. Crank arms busting at the spindle. You ask Dan and he will tell you he has seen it all. Did I mention the two frames that he either snapped the head tube clean off or the down tube right in half? True story. To make matters worse he is the poorest kid. Get a job man. Besides all that Dan still manages to be one of the top riders. He is very well rounded, street, ramp, dirt, he is up for it all.
Click Here for Dan's Clip

















Jay Enns
One of the young guns, he is always the last guy to put his bike down at the end of a session. Picks up on tricks fast and is always hitting his pegs off something.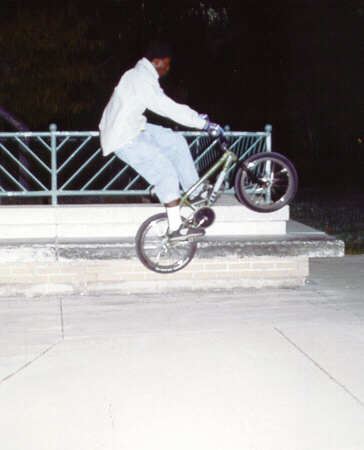 Jon Frye
Smooth, fast and flows. He is determined, I don't know how to describe this to you. Well Jon always has plans weather it be for riding or video production, never one to back out on learning a new trick in groups. I swear he is the kid that makes me want to progress.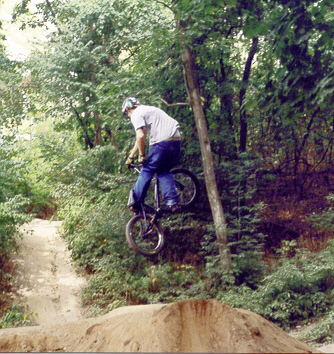 Mitch Dumont
Totally re-programmed for 2003, he has gotten control of the "Mitch Fit" and is out for a good time. With temper levels down he has been able to learn more tricks and be an all round awesome guy. Just so you know he got his license so keep to the sidewalks kids.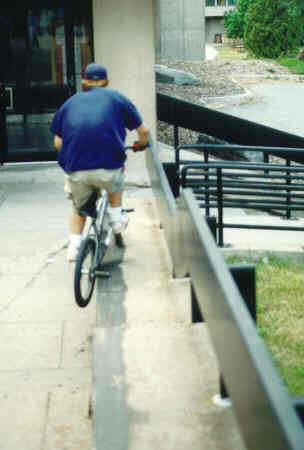 Kyle Stratychuck
Just because he occasionally spits when he talks doesn't mean he is trying to blind you. Like Mitch, Kyle does it all. He snow boards, plays hockey and lacrosse. Also has his license now so the same rules apply.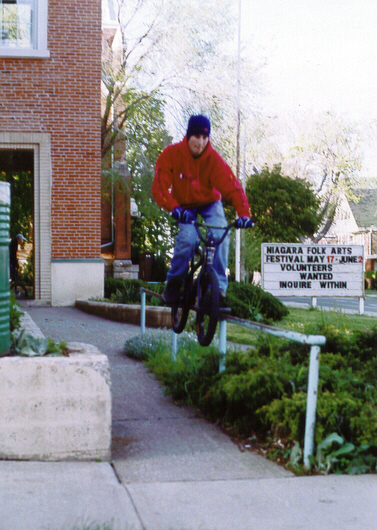 Ken Oliver
Not too much to say about myself, I ride for fun and always will. Get pissed off at little things and hold grudges forever. Click Here for Ken's clip.